In China, it's vital that you obtain a release letter when you quit or change your job. The letter is an official document stating that you have finished your contract amicably. Without it, you cannot freely move on to work elsewhere on the same visa.
Release letters are designed to prevent foreigners working illegally. It means you are bound to the company you wrote down on your visa application.
If you change employer, your visa details need to be updated. To ensure the update is legitimate, a release letter is given by the old employer – and this is why you need one.
When is a release letter useful?
Changing jobs (early termination of contract)
Changing jobs (natural termination of contract)
Changing from a work visa to another type of visa
Leaving China
Cancellation Letter
Apart from the release letter your employer should also give you a Cancellation Letter, which they will obtain from the State Administration of Foreign Expert Affairs (SAFEA) or the Foreign Experts Bureau (FEB).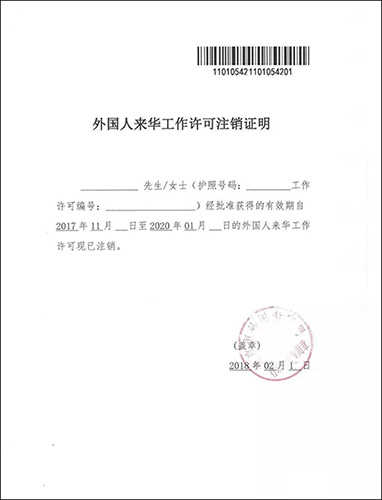 (sample cancelation letter)
Chinese Law
Law states that a release letter must be granted upon ending an employment contract. The letter is usually given amicably, however there are cases where your employer might withhold the letter.
Your release letter may be withheld if there is a dispute between you and your company, or if you want to terminate your contract early.
To avoid this, it's in your best interest to keep a good relationship with your employer. Adhere to the notice period in your contract, and always remain cordial with management and HR staff.
What if I can't get a release letter from my employer?
As long as you have abided by Chinese law and did not break the terms of your employment contract, your employer has no grounds to withhold the release letter from you.
There are some cases, however, where an employer will attempt to make things difficult or deliberately withhold the release letter, even if you have done nothing wrong. If that happens, here are some things you can do:
Ask for a meeting with the relevant managers at your company. Prepare relevant documents stating your legal rights under Chinese law. Try also to highlight parts of your employment contract that demonstrate you performed your duties exactly as required.
Contact the Chinese State Administration of Foreign Experts Affairs and file a complaint. This government department has offices across most major cities in China. Usually your employer will quickly comply if you threaten to take this route.
Ask your new employer to get involved. They want you to smoothly complete this administrative process so you can start working for them. It's in their best interest to help you out, so if they can assist in any way, they will.
Know the law
Before starting any new job, it's good to know where your rights are. Familiarise yourself with the rules and regulations which have been set out to protect you as a worker in China.
Finally, keep yourself informed on which companies are best to work for. Always do your research beforehand, and be sure to carefully read your employment contract before signing anything.
It's always best to fully inform yourself on situations like this. As long as you know you're in the right, you can always get hold of you release letter.