Last Tuesday, on the 11th of June, eChinaCareers held the Annual China Work Visa Seminar at WeWork in central Chengdu. The event was created to help explain and update with information on various visa issues, including the various routes by which a work visa can be obtained.
With the Chinese government so regularly making adjustments to their visa rules and regulations, it's important to stay informed.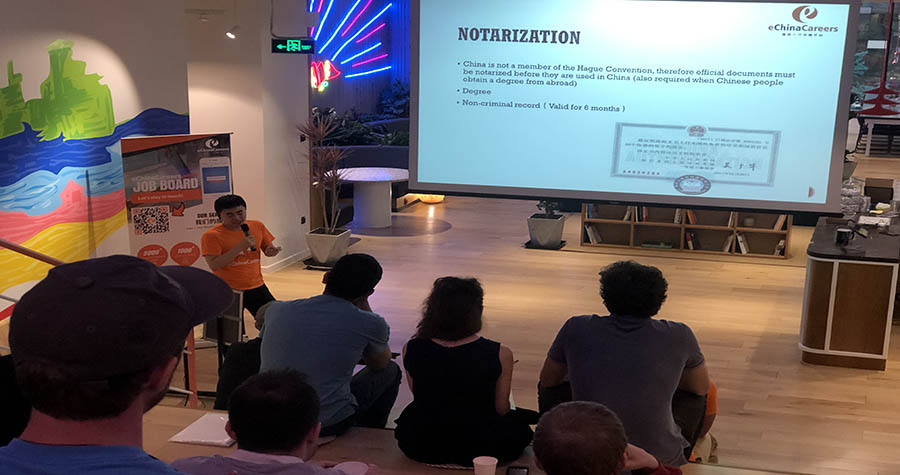 Presented by Archer, our lead visa services professional, the talk started with a brief explanation of the three types of work visas available to foreigners. These come under the now well-known 'ABC' classification, for which applicants are divided into points-based categories A, B and C (where B is by far the most common). The various requirements were detailed, and a useful new government website for testing your own visa point value was presented.
After this, examples were given to explain the most common issues people face when applying for a visa and transferring to a new employer. Finally, some cases studies were given to explain alternative options, such as opening a business, obtaining a prestigious Master's degree or being a talent critical to China's growth.
The event closed with a short talk by Francisco, whose path to successfully obtaining a visa involved graduating with a Master's degree from a top Chinese university.
As well as being attended in person, a large following of over 200 people viewed the online live-stream of the event. Viewers were based in other cities throughout China and across the rest of the world, and had their questions directly answered during Archer's Q&A session at the end. A great turnout!
The night continued with friendly informal talks between visitors and eChinaCareers team members over free draft beers until late in the evening. It was a great event - we hope to see you at the next one!